Anchored By Avarice- E.P. launch w. Hardships/ The Colour Line/ Second Chapter.
Empire, Leeds.
04/05/2012
The first band on tonight were fantastic to listen to due to them being different to a lot of bands that are around at the minute, reminiscent of early Bled, Alexisonfire and From Autumn To Ashes, (unfortunately we never found out their name so if anyway can help us out then that'd be awesome!) The drummer produced a really experimental set and used the rim of his snare brilliantly. The thing that we feel is really lacking from this bands though is a bassist as it would have been great to hear a technical bass line to match the arpeggiated guitars.

The second band on tonight were Second Chapter, they took to the stage with a seriously predictable choice of cover- Your Demise. The vocalist's energy was one of the only things that really stood out about this band, he put on a brilliant performance and got the crowd moving. We feel that the backing vocals need a bit of work as they were a little out of time and it'd be great to hear a little more imagination when it comes to the actual songs.

The Colour Line were the third band to play tonight due to a little line-up change. Tonight the guys more than made up for vocalist Sam having a broken foot; thrashing about and putting on a magnificent show. It's the second time we've seen Sam with the band and he's just got better, producing a dirty, raw, Norma Jean style set. Unfortunately, something always goes wrong for these guys when they play in Leeds, this time bassist Ben snapped the head of his bass clean in two. Luckily, this was at the end so their set wasn't affected. The sound tech really didn't do the band justice tonight either so it was hard to distinguish between the technical guitars.

Hardships definitely show kids what hardcore was and should be still. The drummer delivers a solid and powerful performance, setting the pace for the rest of the band. One of the guitarists is clearly an old-school metalhead and that  comes across strongly in songs which is definitely no bad thing. Their vocalist Damian gave a fantastic performance, pacing the length of the stage and delivering strong, harsh and well-timed vocals.

Anchored By Avarice were the reason we were all at Empire tonight due to it being their E.P. launch. They put on a fantastically energetic show and technically they're a very good band, however, we feel that due to this, they could be a lot more creative with timings etc as opposed to just going along with what seems to be the trend at the minute. We just thought ABA fell short compared to the supporting bands.
Coilguns/ Earthship/ Hush/ DSDNT.

Royal Park Cellars, Leeds.

08/04/2012

DSDNT's frontman put on a ridiculously energetic stage performance, well… more of a floor performance, darting in and out of members of the crowd and still managed to give an incredibly powerful vocal performance as well. We really love how a lot of their songs just seem to finish just as the audience are getting into the them and then just start up again with their odd breed of hardcore. These guys are just pure disfunctional noise, but it works so well.

Glasgow based Hush pelted the audience with heavy bass lines and dischordant guitar, combine this with powerful, disjointed drum parts and you have yourselves a winner. Their vocalist not only has completely different vocals to a lot of hardcore bands around at the moment, but they fit perfectly with the guitar riffs, they're powerful and combined with the floor/ceiling performance, this really was a performance to remember.

You couldn't even tell that German prog/metal-heads Earthship were missing a guitarist tonight, they delivered powerful riff and seriously intriguing bass lines. The timings used in the songs gave a really interesting edge to this band, keeping the audience listening intently so they knew when to tap their feet. The vocalist delivered guttural roars that filled the dark, grotty little Cellar with echoes that seemed to appear from behind you.

The sheer amount of pedals that Coilgun's guitarist, Jona had before him was impressive alone, but what was more impressive was that he delivered the most diverse set from a guitarist that we've ever heard. These guys could easily be an instrumental two piece because of how interesting the songs are but the addition of a vocalist makes this band completely outstanding. The drummer's set-up made him deliver every hit and kick with a massive amount of power which cut through the guitar and vocals to really accentuate the different sections in the songs.

This is easily the best gig we've seen in Leeds for a very long time and you truly missed out if you couldn't make it.
05/04/2012
Black Moth/ Buffalo Bones.
The Library, Leeds.
Our first band tonight were Buffalo Bones, a sweaty three-piece all the way from Leeds. The drummer's great use of floor toms give the songs a really fun edge but the fills are quite simple which gives way to the seriously catchy bass lines. The vocals are dirty and a bit rough so they really stand out, especially with the odd scream which gives the band an added extra something. Their use of timings keep the songs lively and interesting and the audience eager. Buffalo Bones are so easy to listen to and would appeal to fans of any genre; their songs will get stuck in your head for hours and they're brilliant to listen to if you're getting ready for an incredibly heavy night out.

Black Moth were the second band to play tonight and the really noticeable thing about them is that they have such chemistry as a band. Their doom influences clearly shine through with their guitar and bass. Harriet's vocals are dark to match this and they smoulder with sex appeal, parts are almost reminiscent of BeYourOwnPet. Drummer Dom keeps the band going with his energetic and flawless set. The guitarists play old school Sabbath style riffs which really make Harriet's vocals the focal point of Black Moth.
25/03/2012
Dead Harts/ Malevolence/ Lost At Sea/ Swimming With Sharks/ The Colour Line/ We Fall Tonight/ Anchored By Avarice.
Empire, Leeds.
Anchored By Avarice were the first band that we saw tonight, their complicated guitar sweeps during verses but slightly more simple riffs during the choruses which really make the fantastic powerful vocals the focal point. Their inventive drummer makes this band stand out with his loose style of playing, combined with their incredibly versatile vocalist make ABA a band to really look out for. They knew exactly how to get the crowd going as well with a great choice of Parkway Drive as their cover song for the night.

We Fall Tonight's use of layering three different sets of vocals really suited their constant mass of dischords, however it seemed like some of the vocals were a little too high for one member and he struggled to hit the notes. Their lead vocalist was really strong but since all members were tied down to an instrument and a microphone, the band just seemed to have no energy. It'd be really nice to see these guys with a frontman that was able to get the crowd involved a little more.

The Colour Line started off their set with the vocalist legging it outside to get the crowd in, as they filtered in, he blasted out an epic aural assault. You cannot fault these guys for their energy or attempt to get the crowd moving! We have not been this excited about an up and coming band in, well, a very long time. Everything about The Colour Line is face-meltingly perfect. To add to this, not one member is left to support the others and each delivers a flawless performance. If you're a fan of The Chariot, Norma Jean or Johnny Truant then you have to check these guys out.

The next band up were Swimming With Sharks, these guys are obviously incredibly tight, we just feel like they don't use it their advantage since their songs are quite basic. Saying that, their frontman is powerful and energetic which really brings the songs together.  One of the great things about this band though is that they're no nonsense. They get up on stage, play what they want to play and they do it very well.

After hearing really good things about Lost At Sea, we have to say that we were a little disappointed. Both of the vocalists are great at what they do; the screamer is incredibly versatile producing both high and low vocals very powerfully and the singer's melodies were more or less in tune. What let this band down was that It did seem like all members of the band were battling against each other. We'd really like to see Lost At Sea become a lot tighter and definitely co-ordinate the vocals a little more.

One of the really noticeable things about Malevolence is their drummer. He plays really interesting fills and his double pedal is completely flawless which makes this band subtly different. Their guitarists come across as traditional metal guitarists so they bring something unusual to the floor which fits really well with the hardcore scene. This is all topped off with incredibly strong vocals from the frontman.

Dead Harts were out last band to play tonight. After seeing them play at Cellarfest,  every aspect of this band has improved. Their energy on stage would make even the lasiest audience move. The drum fills are complicated and executed perfectly, the band are incredibly tight and each song had a clean finish. The vocalist gave a brutal performance that topped off this incredible wall of noise. We are eagerly anticipating their brand new L.P.

Homesick Fest was an absolutely brilliant place for local bands to showcase their talent, however, I did feel that earlier on in the night, the sound did really let the gig down.
18/03/2012 

Richard Parker / Khuda / The Naturals / Barefoot Beware

The Fox & Newt, Leeds
Bearfoot Beware were the first band on tonight at The Fox & Newt and they played brilliantly. The vocalist knew exactly how to make full use of his microphone which made all of the songs really dynamic, this combined with well-timed screams, perfect harmonies and nicely placed gang vocals away from the mic made this a truly original performance straight away. It was really nice to hear a drummer use his full kit and deliver a really interesting set. However, I feel that this band would be nothing without their bassist, playing complicated lines and easily keeping up with the guitarist. Bearfoot Beware are Cajun Dance Party meet Dananananakroyd but with their own breed of hungover Yorkshiremen tossed in the mix. Brilliant.
The interlinked guitars, bass and drums of The Naturals definitely give them a similar sound to Minus The Bear and let the vocals mix in perfectly. Their enormous pedal boards were certainly put to good use with both guitarists tap dancing during songs to keep the delays in time, the loops under control and the modulators from out of control. Definitely a band to keep your eyes open for if you're from the midlands.
Khuda really are one of the finest bands to ever grace the different venues of Leeds. They build up this incredible face-melting, mesmerising noise that leaves the audience in a slight haze of disbelief. The harsh sound of Steve's snare creates a perfect break in the tracks and shows how tight the band are. The thing we really loved about this performance was that Khuda set up in the crowd and used all of their energy to thrash out an incredible set. There is only one soft, fluffy part of this band and it's Tom's hair.
Now to the band that made this event happen, Richard Parker. This event was the highly anticipated re-release of their E.P, Mechanisms and their first gig with their new bassist, Dean. Mike plays stunning but slightly eerie guitar lines that resonate even after the band have finished while Ben keeps the songs flowing from bar to bar. Drummer Dave delivers a perfectly timed set, really building up the different songs with the combination of gentle cymbals and sharp snare. This wonderful example of post-rock is topped off with bassist Dean, playing low bass lines and keeping the band tight. We did find that their new material was enjoyable, however, it didn't have the same build up that is needed with instrumental bands and that appears in their older songs.
01/03/2012
Eyes Set To Kill/ Shadows Chasing Ghosts/ One Night Stand With Fate/ For Love And Hate.
The Well, Leeds.

Considering there was a hell of a lot less space on the stage at The Well than normal, For Love And Hate kept themselves moving and produced a really energetic show, persuading the reluctant audience to get moving with them. We weren't sure whether guitarist, Jodie's vocals were completely needed, but after tonight's show we were totally convinced, it would be nice to hear more of a variety in melodies though as some were quite similar. Mya  uses a great range of vocals to keep the songs moving and really interesting, which shows how versatile she is as a front-woman.  The band do every single song off the album complete justice and you can tell that they've been together for an age because they play flawlessly together which is what a lot of bands lack. The highlight of this set for us though, was 'I've Met The Ocean,' a fast-paced song with a lot of variety.

One Night Stand With Fate were the second lot to perform tonight and they've definitely come on as a band. After our last review, we said that we weren't sure whether they used their two front-men to their full potential… We will happily take that back now as both vocalists bounced off each other, delivering an brutal, aural assault. Guitarist Ross is a great addition to the band as he seems to keep the songs a lot tighter than before. Angel's backing vocals were as always, pitch-perfect but a hell of a lot stronger than they usually are which tied all the vocals together nicely.

Shadows Chasing Ghosts set to the stage next with a mightily impressive start from vocalist Trey. Backing vocals from guitarist Matt fitted perfectly and were delivered with power and precision. With their catchy guitar riffs, fifteen year old fan girls, harsh gang vocals and southern rock influenced drumming, this band are definitely one to catch live. They put everything into their performance and play well above the standard of their album/recordings.


After so many line-up changes, Eyes Set To Kill have always remained an incredibly tight band and this really showed tonight. Bassist Anissa gave a non-stop energetic performance, however I felt that the other members didn't quite put as much effort in as this pint-sized rocker. Cisco blasted the audience with an aggressive vocal assault, doing some of the band's original tracks justice. Alexia's vocals gave a massive contrast to the harsh sound of Cisco's, which really make Eyes Set To Kill stand out from so many other bands. Caleb delivered a tight and dynamic set which really brought the band and their material together. However, there was one disappointing factor of this set, whether it was the sound the tech or the actual band, they just didn't live up to their records.
24/01/2012
The Black Dahlia Murder/ Skeletonwitch/ Fleshgod Apocalypse/ Release The Kraken.
The Cockpit, Leeds.
Release The Kraken started out their set playing to about ten people but ended to an entire room full due to vocalist, Daneel putting in so much effort to get the crowd going. Not only this but he delivered such powerful vocals that have come on so far from when the band started. Guitarists, Adam and Luke, demonstrated their technical abilities, playing off each other with riffs and solos. Once these guys have a long term drummer, things will pick up very quickly for them, so keep your eyes peeled.

Second on tonight were Fleshgod Apocalypse who blessed the stage with death paint and tuxedos all the way from Italy.  Due to a technical difficulty early in the set, the band took a while to get into the swing of things, but once this was overcome they showed their true colours, all be it black. The use of pianist added a classical vibe to this Italian breed of black metal. Bassist Paolo showed what modern metal is capable of with his insane falsetto, operatic backing vocals, while frontman Tommaso gave us what most metal fans are familiar with, his gut wrenching deep growl.

Skeletonwitch brought us the heavy, traditional side of metal; long hair, windmilling, beards and just pure, ear wrenching noise. The shredding guitars harmonise perfectly together, these are backed up by the constant power and pace of the kick drum. Front-man Chance introduces us to his balls-out vocals, preparing the crowd for the onslaught that was to come.  These Ohio-based metal heads deliver a brilliantly timed and incredibly tight performance which keeps the audience listening and looking on in awe.

After chatting to Brian Eschbach earlier in the night and seeing how much alcohol was to be consumed before their set, we were really eager to see whether The Black Dahlia Murder were on top form. Their brutal assault of blast beats, heavy guitars and untamed vocals ripped through the crowd at the Cockpit, leaving them slightly stunned until vocalist Trevor gave them a deathly smile followed by his low vocals about the walking dead. Not once have we been disappointed by an album produced by The Black Dahlia Murder, and their live show is not only immaculate but technically brilliant. We must say though, we were upset by the fact Brian wasn't wearing his blue two-piece Adidas tracksuit on stage.
05/03/12
Austin Lucas/ X-Ray Cat Trio/ Jimmy Islip/ Shields
Brudenell Social Club, Leeds.
The first band to burn our ears were the Leeds based Medieval Battle-core band, Shields. Considering this was their first gig of 2012, Shields delivered a tight, energetic and beautifully noisy set. Chris' vocals really benefited from a little reverb, creating an epic sound that blended well into the guitars and bass. Drummer Dave really kept it moving and played solidly throughout the set with bassist Paul moshing like there's no tomorrow. We did feel, however, that the guitars weren't very distinguishable due to being poorly mixed in the PA.

Jimmy Islip graced the stage with his odd blend of Californian and Huddersfield inspired folk music. We have seen Jimmy play on many different occasions and he is constantly improving, recently adding into his set the use of a harmonica and even a mandolin, giving the audience something a little different to listen to. The lyrics to his songs are heart-felt and he delivers them with a little raw, Yorkshire passion. Jimmy's final song 'Lifetime,' was one originally written for The Magnificent and we also had the joy of seeing Matt, guitarist from The Mags, performing this song with Jimmy.

X-Ray Cat Trio brought their energetic style of Rockabilly Punk to the floor of The Brudenell, lifting the mood slightly and getting even the most unwilling movers to tap their feet and nod their heads. Layers of complicated double bass, fast-paced drumming, frantic guitar, solid vocals were topped off with well-timed gang vocals to create a real treat for the ears. Even if Rockabilly Punk isn't quite you're thing, it would amaze us if you managed to go the whole set without enjoying yourself and cracking a smile. Plus, if you were there and you didn't quite get it, you can buy their E.P. for just £4!

It was great to hear Austin Lucas' folk and bluegrass heritage come through in his performance, with strong but delicate and complicated vocals, backed with calm and quiet strums of his Martin & Co acoustic. The absolute highlight of the set was when Austin stepped forward away from his microphone, unplugged himself from his amp and surrounded himself with the eager crowd. His beautiful voice filled The Brudenell with soul and passion and we even gained a truthful and almost disheartening insight into the world of music. If there is only one thing you took away from Lucas' performance, it's that the entirety of his set sounds as good as, if not better than a studio quality album.
15/01/12
We'll Die Smiling
The Well, Leeds.

For a three piece, We'll Die Smiling certainly make a hell of a lot of noise. Vocalist Tommi fills the entire venue with his raw vocals, often not using the mic and still projecting his voice into the crowd. It was really nice to hear a band as well where the guitar almost takes a backseat, letting the technical, heavy bass really shine through. Of course, we can't forget We'll Die Smiling's drummer, Tom, executing each different time signature and pause perfectly. If these guys play near you soon, check them out! You really won't be disappointed.

12/12/11
Paige / Kyoto Drive / Decades / Aim A Little Higher / Borders
The Well, Leeds.

Borders' front-man Shane started off the set with rough vocals, almost like the South Yorkshire love child of The Bronx and Chuck Ragan. This really suited their style of fast-paced punk rock combined with their aggression on stage. Shane certainly puts on a hell of a performance, keeping his constant raw vocals flowing while the band keep the music tight and lively.

Aim A Little Higher played a catchy set with some well placed gang vocals. Steven does need to work on his mic technique though so his vocals aren't quite as muffled. We definitely prefer the band's older material as they we're tighter and a lot more upbeat. Unfortunately, the guitars and drums in some of the set were not quite as in time as we had hoped.

Decades' vocalist Tom delivered a pitch perfect and strong set, backed up by both the drummer and guitarist producing harmonies that really complimented his voice. The band create solid music that we feel really appeals to the massed and we have to admit, their cover of One Direction actually made us like the song.

Birmingham's Kyoto Drive clearly have a strong connection as a band due to them playing some of the tightest Pop/ Rock to have ever graced our ears. Each member of the band put in a fantastic performance, equalling the skills of each other and giving the band a really fun and full sound. Kyoto Drive are one of those bands that have the immense ability to make you smile and move, even if you really don't want to.

As Paige came on stage, the audience seemed to multiply before our eyes, filling The Well with anticipation and smiling faces. It was clear that Paige were giving everything to their performance, however, you could tell that they had been on the road a little while due to Lewis and Arthur having to really push their voices to reach top notes. We really enjoyed the addition of Paul on the keyboard due to him giving the band an almost softer edge against their pop rock backing. Paige played a fantastically varied set which definitely lived up to their performance at Hevy Fest 2011 for those of you who were lucky enough to see it!
10/12/12
TDON Xmas Party 2011 (Lavotchkin/Daggers/Worms Feed/Grader/Brotherhood of the Lake/No Reality/End Reign/Grazes/Grace)
The Well, Leeds.

After arriving at The Well ready for the show, I had to wait around for what seemed like an age for the bands to start after some miscommunications somewhere along the line. But as soon as the show started, "Grace" took to the stage and prepared the crowd for exactly what was to come with their fast-paced dischordant southern influenced hardcore. Holy Roar Records' boys, "Grazes" mixed things up a bit next with their hardcore punk ethics, keeping the music simple and the vocals providing a constant onslaught at the crowd. The 70's metal style riffs of No Reality were certainly not what we expected and then what came from vocalist Liam blew our heads off. Their mix of intricate riffs, hardcore grooves and piercing vocals was a highlight of our night. Northerners, "End Reign" took what the first two bands had given us and mixed it with some serious attitude.  Vocalist Geoff climbing on the PA and thrashing himself about in the crowd while the band remained as tight as a nun's you know what. After hearing good things about the next band, "Grader" certainly didn't disappoint. A hardcore band who are definitely deserving of being on TDON Records. Next came our highlight of the whole day, "Brootherhood Of The Lake". They came to the stage, well actually, they came to the floor and provided us with what can only be described as a mix of Norma Jean, The Chariot and Dead Swans. With their technical yet solid riffs, powerful vocals and a drummer who seemed hell bent on destroying his cymbals, these guys are a band not to be missed. Belgium provided us with our next two acts of the evening, "Worms Feed" treat us to some dark riffs reminiscent of old Deftones but mixed it with a good measure of Converge style hardcore. "Daggers", although they didn't have a great sound still threw at us some stripped back, raw hardcore with elements of southern rock, giving the set a upbeat feel to it. By the time headliners "Lavotchkin" took to the stage we were now at midnight and the room had become quite empty, but they still gave us one hell of a show, as drunk as they may have been by this point. Vocalist Simon jumping on people, pushing them about and throwing his mic around as much as his own body. You can see that these guys have been going at it for seven years as no matter how wasted they are, they always provide the crowd with a quality set and a stage show that most bands would be jealous of.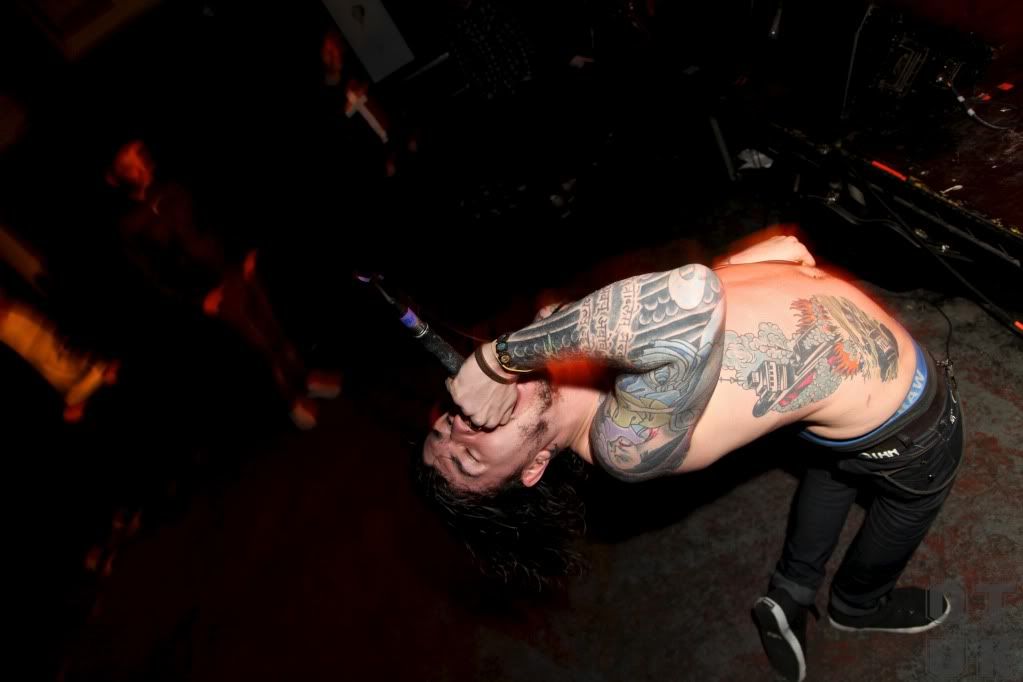 05/12/11
Buried In Verona / Empires Fade/ The Handshake Affair/ One Night Stand With Fate/ Capitals.
The Well, Leeds.
Capitals
We have to say a massive well done to Capitals' bassist, Andy, for not only playing some complicated and catchy bass lines, but also for continuing to play through the majority of a song with a broken strap and a massive smile on his face. Vocalist Lewis has some serious energy and looks like he would be more than comfortable on a big stage at Download or Sonisphere. Capitals are part of the new breed of hardcore that's coming out of the UK, but they're definitely putting their own twist on it with their massive riffs and heavier approach. I must say though, it'd be nice to see four out of five members of the band wearing something other than Vans on their feet.
One Night Stand With Fate
The thing that really stood out about One Night Stand With Fate was their stage presence, both actively and aesthetically. Their songs are well written and have some great vocal harmonies and guitar solos, although we're not sure whether they use both lead vocalists to their full potential.
The Handshake Affair
The Handshake Affair from Dessau, Germany came as quite a surprise due to the vocalist, Eric, looking like he should front an Indie band as opposed to one that plays melodic hardcore. His vocals however, were powerful against the upbeat dischords and melodic backing vocals from guitarist, Philipp. Even in the slightly quieter parts of their songs, the sound is still epic and filled The Well entirely. These guys had a fantastic reception in Leeds and we really hope that they'll come back on tour in the new year.
Empires Fade
Manchester's Empires Fade came to the stage with some serious power and presence, vocalist Callum his huge lungs to provide the band with their huge sound. He also used his experience of being on stage to diffuse a crowd situation. The band are extremely tight and gave us a hell of a performance with them having to take over, unexpectedly, as the headlining band on the tour.
Buried In Verona
Unfortunately, Buried In Verona had to pull out of the last three dates including Leeds, 'due to Promoters and other incidents out of our control.' We were absolutely gutted about this but hopefully we'll be able to catch them when they come back to the U.K.
————————————————————————————
28/11/11
Jonah Matranga / Tony Wright (ASIWYFA) / Howard J Kenny.
The Well, Leeds
Howard J Kenny
Kenny opened the show with his epic, acoustic post-rock; looping little acoustic licks to form a intricate yet massive sound. His cover of Massive Attack's 'Tear Drop,' is easily one of the best I've heard, with the song being built up of layers of simple guitar, claps and perfect harmonies. I found it really nice to listen to a male acoustic artist that does not push his voice, this gave him a really natural, gentle sound that I feel is lacking in a lot acts these days.
Howard James Kenny truly was the highlight to my entire night. His use of looping vocals and guitar was hauntingly beautiful, filling The Well with echoes that left the audience with goosebumps.
http://www.howardjameskenny.com/

Tony Wright
We were expecting very different things from Tony Wright due to him being in 'And So I Watch You From Afar,' a post-rock, instrumental band, earlier in his career. We were presented instead with simple guitar melodies, an Irish man drinking Scottish whiskey and meaningful lyrics that were incredibly catchy. My highlight to Wright's set was definitely his cover of 'The Workers Song,' by Dick Gaughan, which I feel complimented his voice perfectly as it was more folky.
http://www.facebook.com/pages/VerseChorusVerse/142784272452379?sk=wall

Jonah Matranga
Song writing clearly comes easily to Jonah Matranga. He performs with an air of intimacy, making the crowd feel like he had invited them into his own living room. His vocals are organic and beautiful even though his lyrics are often quite political and personal. Matranga combines raw punk style guitar with gentle chords under his powerful vocals to create a set that sends shivers down your body.
(click "photos" for more photos from the show)